Mount Girnar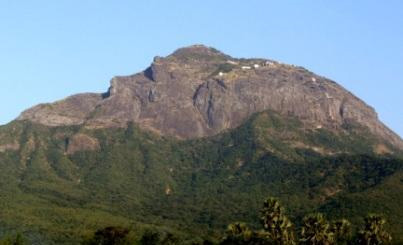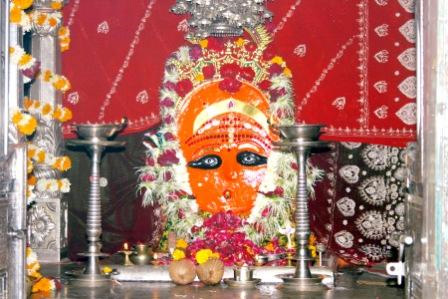 Girnar Mountain is about 1100m (3630 ft) high and is an extinct volcano. It is 4km east of Junagadh and is the main tourist attraction in the area. On the plateau about 180m (600 ft) from the top of the hill, is a group of beautifully carved Jain temples built between 1128 and 1500. Neminath, the 22nd tirthankara, is said to have died on Mount Girnar after living here for 700 years. There is a special marble temple dedicated to him here, and a black marble statue of him. The Mallinath Temple (1177) is impressive. There is the peak of Ambaji, with a height of 3,330 ft (1,010 m), which is famous for the temple dedicated to the goddess Amba Mata dating back to the 12th century. It is said that a visit to this temple guarantees a happy marriage. There are good natural sceneries from the top of the mountain. The steps go down and up again to Gorakhnath Peak at 1116m (3666 ft) above sea level, where there are footprints of the rishi Gorakhnath. It is the highest peak of the mountain. The steps again go down and there is Kamandal Kund and another peak where there are footprints of Guru Dattatreya. The steps to Dattatrey Peak are quite difficult. There are no steps further and on a foot way, there is a goddess Kalika shrine on another peak.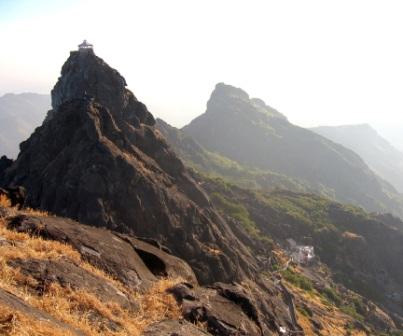 Visitors must climb 8,500 steps to reach the top of the hill, so it is best to start early in the morning (before 6 am). It is a difficult four to five hour climb. Hundreds of people climb this hill every day. There are many stalls selling cold drinks along the way.
Every year, between the 1st and the 10th of January, a Girnar Climbing Competition is held by Gujarat Government. Anyone who climbs up 5,500 feet (1,700 m) within 2 hours gets a certificate from the Government of Gujarat, and the winner gets lots of prizes. Now it has been made a national sporting event.
Other Spots to visit on Mount Girnar are Bhimkund, Satpuda, Gaumukhi Ganga, Pathar chati, Bhairav Jap, Bharatvan Sheshavan, Hanumandhara and Jatashankar.
Every year during the period of five days ending on the full moon day of Kartik month, a circular excursion to mount girnar (Parikrama) is held. Lacs of people take part in it. It goes from Bhavnath Temple to Jina Bawa Ni Madhi, Hanuman Dhara, Malvela, Bordevi and return to Bhavnath Temple. It is a foot way of about 40 Kms.
Closed:
No Holiday
Go Back