Sakkar Baug Zoo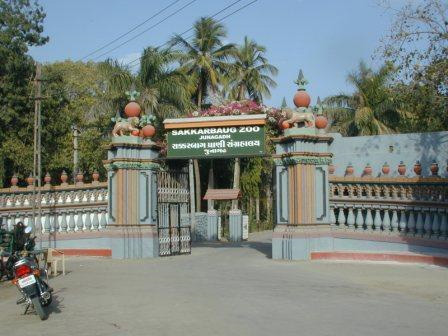 This is the oldest zoo in Gujarat and the 3rd oldest in India. The rare Gir lions are bred and supplied to other zoos. The zoo also has a collection of various native and foreign animals including monkeys, birds, tigers, leopards, bears, deer, wolves, crocodiles, snakes & reptiles and fish to name a few. The entire zoo is spread in a beautiful garden. It also has an extension called Safari.
The zoo is divided into three parts, Birds Section, Wild Animals Section and Deer/Antelope Section. It also has a collection of fish (Aquarium) and Reptiles like Snakes and crocodiles.
THE JUNAGADH MUSEUM - In the same premises as the zoo, there is a museum containing rare specimens of art, furniture, stuffed animals, ancient coins, Persian Sanskrit inscriptions, archeological items, manuscripts, and statues and various other articles of interest. Remains of Harappan culture which were found at Intali have also been stored there.
Open:
9 am to 12:15 pm and 3 to 6 pm.
Closed:
Wednesday
Fees:
Age wise, Photography wise
Go Back